Relocation & Refurbishment
Many of our customers call us because they have a play set they want dismantled, transported and reassembled at their house. This process is commonly referred to as a relocation, and is a service Swing Set Pros also specializes in. For some, purchasing a used swing set is the best way to go. A well maintained used swing set can have as many as 3 – 5 years of use left (in some cases even longer). Consequently, a good quality set that hasn't been neglected or abused can offer some real value. If you've found a used play set for sale, but aren't sure if you should buy it, you can always send us pictures. We'll evaluate its condition, rate the manufacturer, and share other relevant information we think you should be aware of. When you find the right set, we'll put together a reasonable quote and make sure everything involved in relocating the swing set goes perfectly.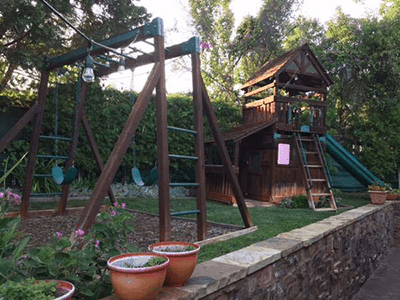 RELOCATION COSTS
The cost for relocations varies based on the size of the play set, and the distance involved in the move.  Typically we are able to provide an exact quote once we have a picture of the swing set and the zip codes involved in the move.  Since many of the play sets we relocate are in need of some TLC, we offer refurbishment services as an optional add-on to our relocation service.  Refurbishment services added on to any relocation are provided at a discounted rate since doing it on the same day eliminates the need for us to return a second time.
REFURBISHMENT SERVICES (RE-STAINING, RE-SEALING, REPAIRS AND TUNE-UPS)
Specifically, refurbishment services involve sanding (and in some cases power-washing), re-staining/resealing (using premium quality stain), and a doing a complete 'tune-up' (checking and tightening up all fastening points on the fort section and swing beam). Refurbishing a play set not only improves its appearance but helps maintain its overall strength and value. Re-staining prevents unwanted weathering resulting from both wet rainy weather, as well as hot dry conditions. Exposed or unprotected wood doesn't last nearly as long as wood protected with a high quality stain. Protected wood is also far less likely to splinter.
REFURBISHMENT COSTS
The cost for refurbishment services is based on the size of the set, its condition, and other variables that affect the amount of materials required. Good quality stain costs around $45 per gallon. The larger or more neglected a set is, the more stain it will require. Sets with gang planks, enclosed fort sections, monkey bars, bridges, wood roofs, etc. all require additional materials and labor that affect the price. Simply send us a current picture of your set and we'll be happy to provide you with an exact quote.