We Provide professional Swing sets assembly & installation and Play set assembly & installation services anywhere in California, Los Angeles, Orange County, San Diego, Santa Barbara, San Fernando Valley and San Diego area.
Swing set Pros is a Professional seller of Swing Sets, Play Sets and providing Swing Set Assembly & Installation, Play set Assembly & Installation service. We build the "big-name brands" AND the "not-so-big" ones too! After our many years of experience, we've pretty much built them all. Specializing in swing set & play set assembly has familiarized us with virtually every brand on the market. That familiarity has established our expertise. Expertise is everything when it comes to getting the maximum reliability, durability and safety out your play set.
If you are still shopping for a set or have already purchased one, you've probably seen the phrase "do it yourself" associated with a lot of them. Don't be fooled. This is more of a marketing strategy than an accurate claim about what most people are comfortable with taking on as a DIY project. Whether you hire us or someone else, you're are well advised to have your set professionally assembled. Even if you consider yourself to be reasonably "handy", you are certain to find yourself 'challenged' at best, and overwhelmed at the worst with the typical assembly manual.
Assembly manuals for swing sets are vague and confusing. They lack clear step by step instructions needed to help those who have never built swing set before. Dig into the reviews of virtually any play set and you'll see what we mean. With few exceptions, most people realize that the time, effort and headaches involved simply are not worth it. Our tagline "Helping save marriages one swing set at a time!" was born out of such an experience. This was a comment one of our customers made that had us "take over" the assembly of their set. All of us couldn't help laughing as they kept saying it over and over again while raising their wine glasses to toast the set's completion at the end of the day.
Our absolute commitment to live up to our name, Swing Set Pros, is something you'll recognize immediately. No matter how familiar we are with the particular brand or model we're building, we understand how critically important it is to assemble it exactly as the manufacturer intended. We bring an assortment of screws, bots, and other hardware with us. That way if anything is missing we are likely to have an appropriate replacement rather than scrounging something in order to "make it work".
It will also be obvious that our installers are well-compensated for their skills, expertise and experience. You'll feel comfortable having us at your home, and appreciate how happy we are to answer any and all of your questions. We'll make recommendations on the best way to position your play set, go over options you may not have considered and will always stop to get your approval before anchoring the set down to the ground. We've all had that experience (at one time or another) with 'that guy'… You can just tell he really doesn't want to be there, feels underpaid and is more interested in 'getting it over with' and going home than anything else. That 'guy' doesn't work for Swing Set Pros.
Lastly, we bring a detail-oriented mentality to every assembly we do. Several pages of every instruction manual specify in great detail the proper method of installing and tightening the various types of hardware. From what we've witnessed during our many swing set relocations is that there are a lot of assemblers out there that never bothered with the information contained in that section of the manual. Instead they crank down willy-nilly 'till it's good and tight'! Properly tightening the hardware maximizes the sets strength. Over-torqueing hardware crunches and splinters the wood compromising its strength and integrity.
No matter how modest or elaborate the play set you purchased is we recognize that it represents an investment on your part. We understand that it is our job to help you protect that investment by putting it together carefully. We take that responsibility seriously and will make sure that when the very last step of the assembly is completed, the words that'll come to your mind are "money well spent!"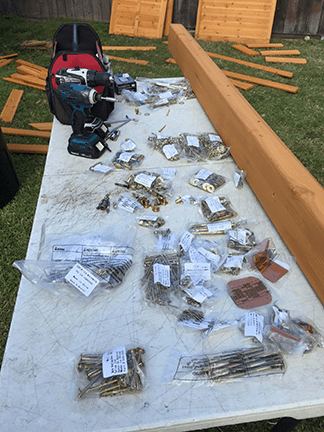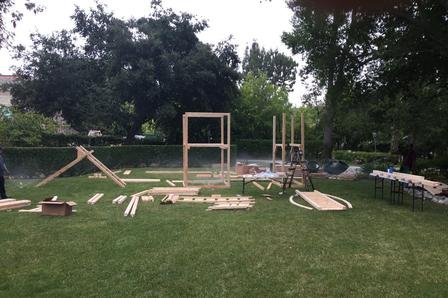 Chain Store and Major Manufacturers
Many of our customers' circumstances are such that a store bought swing set makes the most sense. Sets sold from major retailers such as Costco, Wal-Mart, Sam's Club, Gorilla, Play Nation and Toys R Us while at a similar price point vary greatly when it comes to quality. We've built sets made by pretty much every manufacturer out there and know which ones offer the best value and which ones should be avoided. If you think you've found a set you like, but want our opinion before buying, please feel free to call. I've provided links to the major retailers swing set pages both here, and on the Assembly / Installation section of this site.